Payment Methods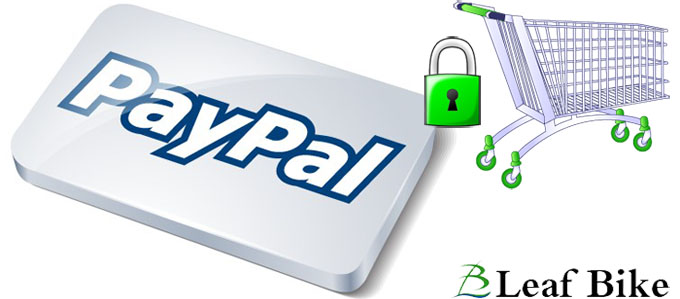 PayPal lets you send payments quickly and securely online using a credit card or bank account.

PayPal has some advantages..
* Payment is traceable.You can track the status of your payment using your PayPal account.
* Payment is convenient and immediate.You pay right from the listing page and your payment is deposited directly into sellers' account.
* You don't have to use a credit card.You can transfer money directly from your bank account.
* If you use a credit card,sellers don't see your card number.It's safely encrypted through PayPal's server to help minimize any risk of unauthorized use.
* On eligible transactions you're covered by PayPal Buyer Protection for up to the full purchase price of your item,plus original shipping charges.

Please Be Careful,Our PayPal account: sales@leafbike.com

Stay safe ONLINE with us... Order today and rest easy !

(If you don't have Paypal,also can use Western Union or Bank Transfer)

Contact Customer Support
If you're looking for more help or have a question to ask,please contact us.

No matter where you are,in USA,or Canada,UK,France,Germany,Norway,Italy,Sweden,Switzerland,Australia,New Zealand..Once Done payment for order.We can transport our products to any corner of the world by DHL,Fedex,USPS,EMS,TNT or other..
Door - Door Express Service !